< Back
Why Reviews Are Necessary for Your Clinic and How to Manage Them
Reviews are key to any business model. They're what customers come to first when deciding whether to invest their hard earned money in you and your products.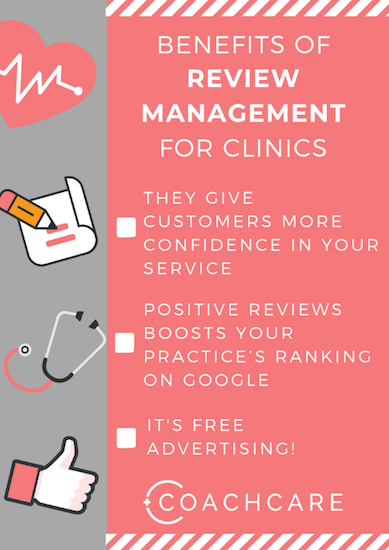 If you have glowing, independent testimonials from past clients, you're going to be gaining new patients regularly. On the flip side, if your reviews are less than favorable, chances are, you're going to be missing out on a whole lot of untapped potential.
What is Review Management?
Review management is simple. It is how a business (and in this case - your clinic) manages their online profile. It is how reviews are sourced, presented and verified.
Being able to keep on top of all of this is paramount to succeeding in an increasingly online world.
Who Is Review Management For?
Reviews are especially important for clinics who want to continue to grow their Telehealth patient-base and rise to the top of their respective field.
The difference between a 4-star and a 5-star review might mean the difference between a new patient joining you or a choosing a competitor.
It really is that important - and should definitely be treated as such.
Of course, being able to manage your reviews and curate your online presence is paramount to all businesses, but when it comes to people's health, the stakes are far higher, meaning customers are placing a lot more trust and weighting in reviews from people who've been there and experienced it.
The Benefits of Review Management
There are tons of benefits to review management software - and reviews in general. They are varied, but we've put together a quick bullet point list to highlight some of the best.
Let's start with the benefits of the reviews themselves:
1. It's free advertising! Reviews are just like word of mouth advertising, only on a much grander scale.
2. They give customers more confidence in your service. That means patients are going to sign up without you having to employ hard sell tactics, leading to less buyer's remorse and longer-term patient/practice relationships.
3. Having lots of positive reviews boosts your practice's ranking on Google and other search engines, too! This helps put your practice on the map (literally) and increases visibility in and around your catchment area- perfect for getting more local eyes on your services.
How to Manage Your Reviews?
In one word - software.
Review management software helps to manage how your practice is presented online. Being able to control how your business looks to potential patients can be pivotal in converting them into long term clients.
Software also helps to keep track of reviews and nudges past patients to leave you feedback, boosting your online ranking and establishing you as an authority in your area.
Where to Find the Best Review Management Software
One review management software company we can recommend is a company called EmpathIQ.
Their software is one of the most comprehensive, yet easy-to-use systems in the business.
Below is a quick list of everything that EmpathIQ software can do to help clinics like yours manage your reviews online;
Send review invites, tailored to each client, directing them to review websites that your practice is on
Bespoke weekly updates highlighting your online presence and analyzing data
Ability to manage reviews in real-time
Reminders and updates regarding the status of your practice's public details, ensuring 100% accuracy at all times
AI technology that helps your practice to understand why reviewers are saying what they are and how to either change or stick with the current trend
Customer support dedicated solely to helping you solve any issues or queries you may have about your software
Based on their abundance of features, it's easy to see why EmpathIQ is widely regarded as a great review management software company to dive into if you are ready to take the plunge.
If you're a clinic looking to bolster your review management strategy, then investing in review management software is a necessity.
Be sure to opt for the best in the business and you'll reap the rewards in the long run, getting new patients, improving your Telehealth brand, keeping them happy and building your practice's reputation as a result.
About CoachCare:
CoachCare powers clinics with a virtual health and remote patient monitoring platform that reflects your unique workflow and protocol. Remote patient monitoring insurance features drive significant additional revenue while lowering the overall cost of care. Contact us to learn more.