< Back
How Personalized Vitamins Can Improve Your Patient Outcomes
Personalized vitamins are the future of tailored healthcare. They may not be mainstream yet, but using DNA to create a bespoke nutrient regiment for patients is your surefire ticket to a drastically improved practice.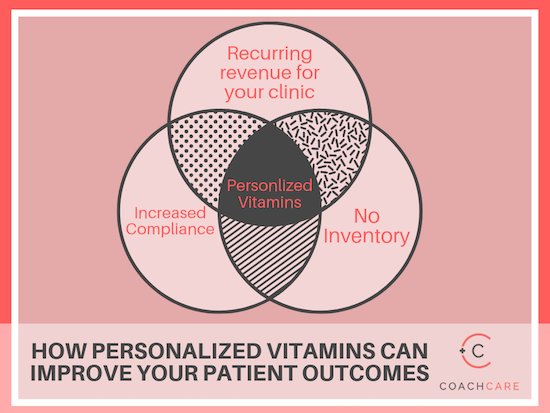 What are Personalized Vitamins?
Personalized vitamins can come in either powder or pill form, providing individuals with more options to appeal to their preferences. In its simplest terms, it is a personalized formula unique to each patient based on their health needs, DNA samples or blood tests - or a mixture of all three.
Using this personalized data, micronutrient needs are determined and turned into a stringently engineered vitamin plan for the patient. 
The beauty of this is the improved patient outcomes that come as a result of a far more personalized clinic experience. Each patient gets exactly what they need, feels valued and experiences far greater health benefits as a result.
This all contributes to a more successful treatment process, along with happier, repeat patient visits and increased revenue for your clinic.
Who Should Use Personalized Vitamins?
Personalized vitamins can obviously be beneficial for everyone, but they are absolutely perfect for patients of specialty clinics - in particular, patients seeking weight management, bariatric and naturopathic guidance.
These types of clinics are at the cutting edge when it comes to diagnosing and treating the root causes of obesity and disease. By creating tailored vitamin plans for patients, clinics may be able to increase adherence, client experience and, therefore, outcomes and success.
Nutrients are the building blocks for wellbeing, so clinics such like those above will be able to provide a far more robust and well-rounded service to their clients if they invest in implementing a personalized vitamin plan.
The Benefits of a Personalized Vitamin Program
There are countless benefits to both your clinic and patients when it comes to offering a personalized vitamin program, but here are a few of the most notable:
Customization
By far the most important benefit offered is the sheer amount of customization that is at your disposal which you can track in your health tracker app.
Supplements are formulated based around the individual needs of each patient, meaning 100% satisfaction and efficacy is almost a given.
In addition, personalization of supplements gives patients a feeling of autonomy over their health and wellbeing, which can lead to better long-term results.
No inventory 
This is huge for clinics that waste supplements due to under-prescription and expiration.
With personalized vitamin regiments, there is no need for inventory thanks to the made-to-order nature of the service.
This also means no more lost money on old vitamins and a much higher profit margin.
Recurring revenue for your practice
Patients who are prescribed a personalized supplement regime will see fantastic results. These positive results will keep them motivated to come back for regular consultations and tests to stay up-to-date with their bodies unique needs.
They will also likely not fail to take their prescriptions because of the immense benefits they will experience, all resulting in more revenue for your clinic.
Increased compliance
When a patient has to take a dozen different pills every few hours, things get tedious and they start to waiver from the plan - especially when busy schedules and life in general puts stumbling blocks in the way.
By consolidating everything into one pill or one serving of powder, compliance shoots through the roof. All patients have to do is take their single vitamin with a meal at any point during the day and they will have followed their plan.
Making things this easy will skyrocket the success of your client's journey which you can track in your health tracker app.
Where to Get Personalized Vitamins 
By now, you're probably wondering where your practice can actually begin the personalized vitamin process.
A company we recommend that offers this full service is VitaminLab. VitaminLab is available to US and Canadian physicians.They carry professional grade and bioavailable ingredients: including vitamins, minerals, amino acids, nutraceuticals, herbs, probiotics and marine plants - ingredients that are staple recommendations for your practice. 
All VitaminLab products are compounded in a GMP licensed facility that exceeds the industry standards for quality testing. They offer a truly personalized experience to patients and their safe and effective supplementation has won them countless testimonials from people who have completely overhauled their health using personalized plans.
As you can probably see now, personalized vitamins are the future of personal health care. Their tailored nature and the fact that they work far more efficiently than standard multivitamins means that this is a trend that's here to stay.
Make sure you get on board and be a trailblazer, not a late adopter.
About CoachCare:
CoachCare powers clinics with a virtual health and remote patient monitoring platform that reflects your unique workflow and protocol. Remote patient monitoring insurance features drive significant additional revenue while lowering the overall cost of care. Contact us to learn more.