< Back
Benefits of the New Remote Patient Monitoring Codes for Clinics
This year, CMS released their new remote patient monitoring (RPM) codes for clinics, which is great news for practitioners across the country! These codes will allow clinics to thrive as they represent a huge step forward in the sector - both for patients and health care professionals.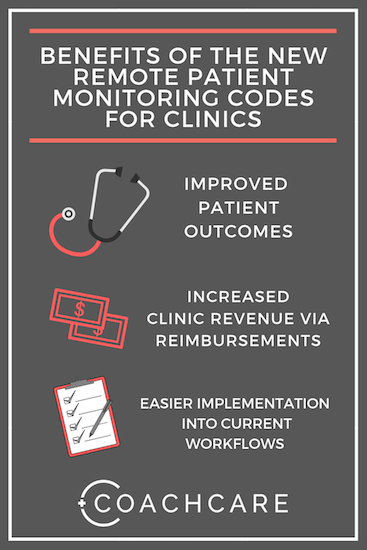 What are the newly Approved Remote Patient Monitoring Codes?
There are four pivotal new codes that clinics should be paying attention to - these are CPT 99453, CPT 99454, CPT 99457 and HCPCS G2012, which together, could allow clinics to be reimbursed up to $158 up front and $137 per patient, per month from then on.
Now, let's discuss these new codes and health insurance reimbursements in a little bit more depth.
CPT 99453 represents the RPM initial setup & patient education. This is basically a reimbursement for the setup and subsequent explanation on how to use the tools. This is a one-time payment.
CPT 99454 is the most valuable reimbursement you can apply for. It is for the RPM device supply. The only criteria for this code is that the device must be capable of wireless communication coupled with alert sending capabilities directly from the billing practitioner. Be sure to check that your equipment has this, as some companies may have one but not the other.
CPT 99457 covers RPM periodic monitoring. This is the time spent (20+ minutes per month) by the practitioner communicating with each patient.
HCPCS G2012 represents virtual check-ins. This is a reimbursement for consultations with patients who aren't quite sure whether the symptoms they are experiencing are worth a visit to the practice. Either a telephone call or an enhanced two-way video call can qualify for this.
The Many Benefits of the New RPM Codes
These new RPM codes are great news for both you and your patients, but what benefits are clinics actually going to see day to day?
Here are a few of the most important benefits.
Improving Patient Outcomes
So many patients struggle to get to a clinic because of where they are situated or potentially because they are in such poor health.
This advancement in patient-provider communication will allow patients all over the country to get the help they need. They can schedule consultations, keep track of their progress, feeding that information directly to the health care professional's dashboard, which all contributes to better patient outcomes.
Increasing Revenue via Reimbursements
The health insurance reimbursements of up to $137 per month can be a great way for practices to increase revenue which can then be used to improve services, increase employee wages or simply to add to the profits of the practice.
Increased revenue ensures your practice will thrive and reimbursements can provide a huge boost.
Easier Implementation into Current Workflows
The 2019 CMS codes have also made it substantially easier to implement RPM programs into your practice's current workflow.
This is because the services can be performed by clinical staff instead of being limited to just physicians, making the process much more accessible.
What are the Requirements to Bill for Remote Patient Monitoring?
There are 3 main factors that will allow you to bill for RPM. These are as follows; Patient consent, a qualified healthcare provider-commissioned order and data must be wirelessly transmitted to said provider.
How to Receive Reimbursement
Here at CoachCare, our services are completely compliant with the new codes, making us one of the most sought-after providers for clinics.
Our service includes patient consent, a wireless scale, a real-time dashboard for providers and daily reminders for patients, which qualify your practice for reimbursement in accordance with the CMS guidelines.
To claim your reimbursement through your insurance company, there are 4 simple steps you must follow:
Get verbal or written patient consent
Set the patient up on your app
Monitor patient data
Export billing information
Our remote patient monitoring prices start at $399 per month for up to 15 patients, per location and you can get in touch for a full consultation by calling us on (646) 259-3350 or by emailing us at sales@coachcare.com.
About CoachCare:
CoachCare powers clinics with a virtual health and remote patient monitoring platform that reflects your unique workflow and protocol. Remote patient monitoring insurance features drive significant additional revenue while lowering the overall cost of care. Contact us to learn more.