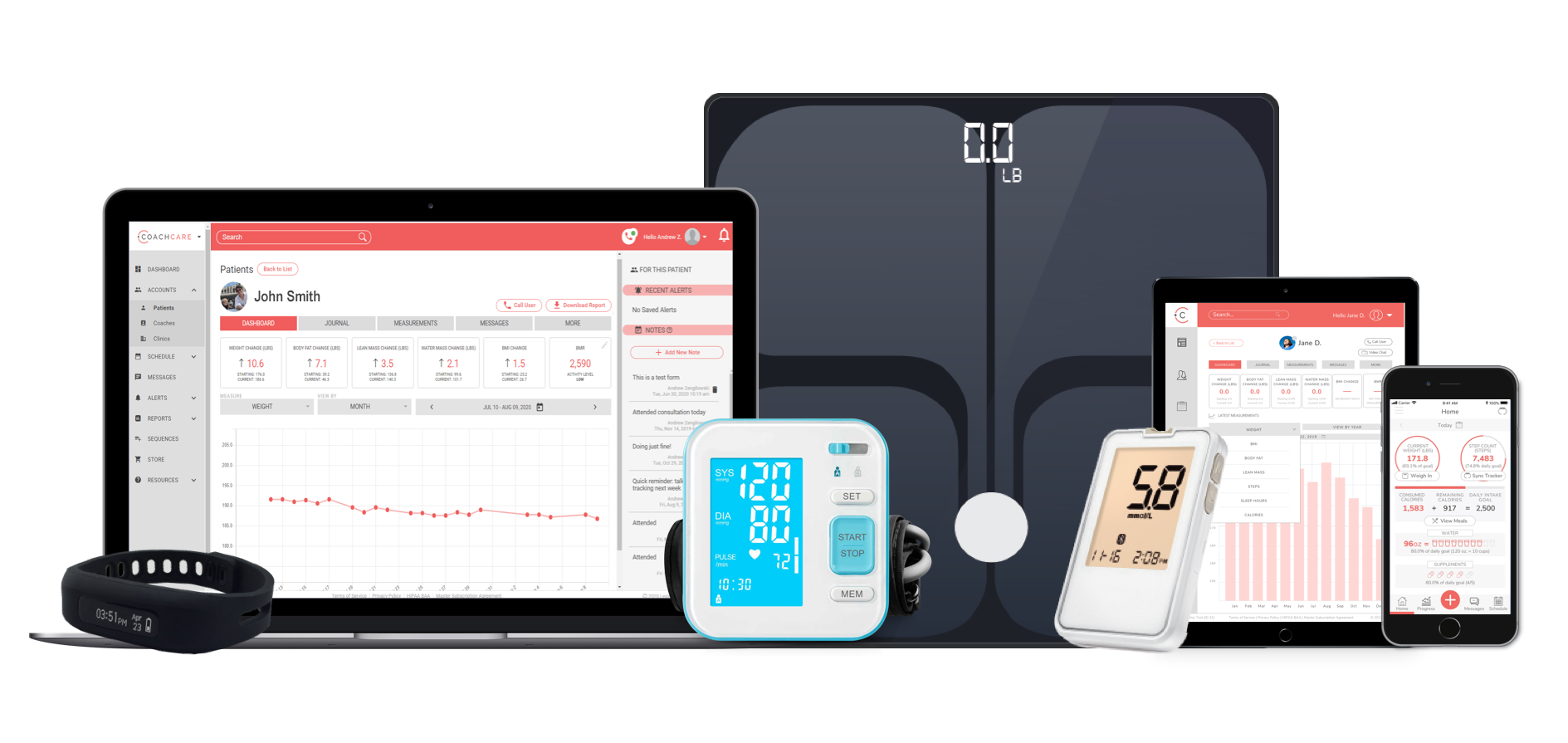 Learn about the many benefits of the CoachCare RPM solution, including expert claims support to help ensure you are familiar with all RPM requirements and are receiving maximum reimbursements, and performance-based payment plans so you only pay for successful claims.
Open the short FAQ below for answers to some of the most common RPM reimbursement questions, such as who can bill and how much time is required.
Who can perform Remote Patient Monitoring (RPM) under CPT Code 99457?
CPT Code 99457 allows for reimbursement for time spent by the billing physician, a qualified healthcare professional ("QHCP"), or clinical staff. All practitioners must practice in accordance with applicable state law and scope of practice laws.
How much time is required to bill CPT Code 99457?
The code requires the physician, QHCP, or clinical staff to spend at least 20 minutes per calendar month providing RPM services to a particular patient in order to receive reimbursement.
How much does Medicare reimburse for CPT Codes 99453, 99454, and 99457?
Approximate reimbursement amounts for each of the codes are as follows:
99453: $18.80 one time per episode of care*
99454: $61.90 every month
99457: $48.29 every month
99458: $38.89 every month if applicable
*NOTE: Amounts listed are approximate values only; reimbursement varies among MAC localities. Contact your local MAC to determine reimbursement amounts in your region.
How is Remote Patient Monitoring different from Telehealth?
The Remote Patient monitoring codes are not subject to the same restrictions that currently govern reimbursement of telehealth services under Medicare. Specifically, reimbursement for RPM services is not limited by geography to rural or medically underserved areas, nor is there any "originating site" requirement for RPM services. RPM services can be provided anywhere the patient is located, including at the patient's home, or while out and about.
Do private payers reimburse for Remote Patient Monitoring services, or is reimbursement limited to Medicare?
Private payers may reimburse for RPM services; however, they are not required to do so. It is important to note that private payers that do reimburse for RPM services may have different requirements for billing. Practitioners should check with the commercial payers in their region to determine whether services are reimbursable and what requirements must be met for billing.
Is there a patient copay for RPM services?
Yes, for Medicare beneficiaries. As with other Medicare Part B services, RPM services are statutorily subject to a 20% beneficiary copay. With very limited exceptions, practices may not choose to waive the Medicare copay. Private payers may establish their own copays or may choose not to require a patient copay.
Do claims for RPM codes need to be submitted in any special way?
No. Practices should simply ensure that all requirements for each code are met (e.g. documenting patient consent for RPM services) and follow their current standard billing practices in submitting claims.
Are Chronic Care RPM services (CPT Codes 99453, 99454, 99457 & 99458) only reimbursable for patients with multiple chronic conditions?
No. A practitioner may recommend RPM services for any patient whom s/he deems may benefit from some form of remote patient monitoring through improvements in care planning and treatments.
What is the difference between CPT Code 99457 and CPT Code 99091?
CPT Codes 99457 and 99091 are similar, but they differ in some important ways. CPT Code 99091 requires an aggregate of 30 minutes of time by a physician or QHCP during a 30-day time period, while CPT Code 99457 requires an aggregate of 20 minutes of time spent by clinical staff, physicians, or QHCPs during a calendar month. In addition, CPT Code 99457 requires live, interactive communication between the individual performing the services and the patient. A billing practitioner should carefully review the requirements for each and use his/her professional judgment to determine which code the provided services should fall under.
Can CPT Code 99091 and CPT Code 99457 be used together?
No. According to the CPT Code Manual, CPT Codes 99091 and 99457 cannot be billed for the same patient within 30 days of each other.
For purposes of CPT Codes 99091 and 99457, which practitioners are "Qualified Health Care Professionals"?
CMS does not set forth in the Final Rule a specific list of practitioners that are considered "Qualified Health Care Professionals" for purposes of these codes. The code descriptor for CPT Code 99091 references a qualified health care professional as "qualified by education, training, licensure/regulation (when applicable)," and this is the definition included in the American Medical Association's CPT Manual. The AMA has indicated that the definition is drafted as intentionally broad so as to allow flexibility between payers, providers and regulatory agencies alike to determine the appropriate policies. When in doubt, consult your local Medicare Administrative Contractor ("MAC").
Is CPT Code 99454 reimbursed per device or per patient? For example, if a patient has a condition or conditions that require two separate monitoring devices for the same episode of care, is separate reimbursement available for the supply of each device?
CPT Code 99454 can only be billed once per patient each 30 days, regardless of whether the patient is using one device or multiple devices. Therefore, if a glucometer, a weight scale, and a blood pressure cuff are all provided to a patient for use in RPM and the devices meet all of the requirements for billing CPT Code 99454, the code could still only be billed once each 30 days for that patient.
Get access to our free Remote Patient Monitoring Startup Guide.
By clicking submit, you also consent to our privacy policy and to receiving more information from CoachCare. You can unsubscribe at any time.