< Back
Now's the Time to Use Vetted Virtual Health Tools That Guarantee Patient Privacy
While the current outbreak of COVID-19 has caused a surge in working from home, social distancing, and put the entire country in quarantine, millions of individuals have adopted Zoom as their preferred virtual platform, including virtual health.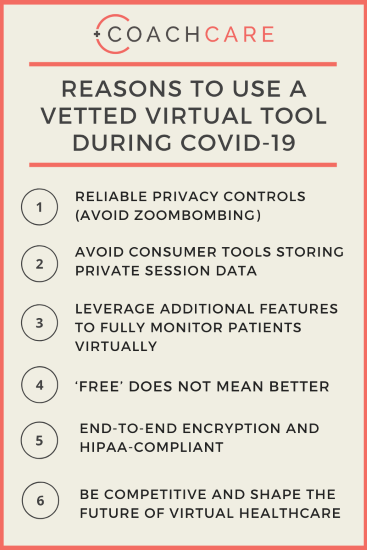 The video conferencing software, Zoom, has been drawing attention from researchers and journalists lately for a number of potential privacy and security issues. There have been many reports of uninvited attendees breaking into and disrupting meetings, referred to as "Zoombombing". While those incidents may have initially been regarded as pranks or trolling, they have since risen to the level of hate speech and harassment, and even commanded the attention of the F.B.I.
As hospitals and clinics scramble to find the right consumer-grade video conferencing tools as a way to substitute their in-office visits, they may be unaware that these tools, although easily accessible and widely popular, lack critical privacy controls. There is nothing more important than privacy when dealing with your patients, whether at your clinic or virtually from home.
There's more to worry about than just a random stranger dropping by your patient appointments uninvited. On the technical side, one of the major issues of a free consumer tool like Zoom is that the video and audio feeds cannot be encrypted end-to-end. This means that Zoom's servers can see, and potentially store, all of the video and audio from your patient sessions. Alternatively, a HIPAA-compliant, paid service uses direct connections between meeting participants, which relies on WebRTC. This means all video and audio never touches or passes through an insecure server.
A free service like Zoom seems like an attractive option for a short-term issue like the pandemic we are experiencing now. However, not only do free consumer tools lack privacy controls, but they only provide a video conferencing service, versus a full-featured, HIPAA-compliant platform like CoachCare, which offers a plethora of virtual features, including messaging, video conferencing, content sharing, and connected devices. A full-featured platform not only allows digital appointments with patients, but also real-time monitoring of their programs from the comfort of their own homes. Yes, Zoom does offer a paid Healthcare version of it's free service, but even then, they only offer video conferencing and third-party device integrations. 
Platforms like CoachCare offer a host of communication and monitoring features that when used together, provide your patients the closest replication of an in-office visit. The platform features make it easier for your staff to continue to fully care for their patients from their own homes, which is critical during this time of social distancing and state-mandated lockdowns. 
The many benefits of a full-featured platform include:
HIPAA-Compliant Messaging: Your patients and coaches can communicate at any time via secure text message that keeps patient information safe and compliant.

Video Conferencing: A premium feature that is free through the month of April for all CoachCare clients. Clinics can offer live consults and support groups, as well as face-to-face meetings between coaches, admins and patients.

Integrated Connected Devices: CoachCare's own wireless scale and activity tracker generate new revenue streams for clinics and put valuable real-time data at your staff's fingertips 24/7. Coachcare will even ship directly to your patients. 

Scheduling: Your patients can view their coaches' availability and automatically schedule virtual appointments.

Full-Featured Meal and Exercise Logging: Your patients can easily log meals using a comprehensive meal database and barcode scanner. Exercise logging is an easy and simple way for patients to record their activity for exercises and workouts.

Reporting and Analytics: Your coaches and providers receive real-time, customized data and reports to align with patient programs and clinical needs.
It's understandable that many clinics and providers may be hesitant to spend money during a recession like the one we're experiencing now. However, clinics that see the full potential of virtual features are more likely to come out of this crisis stronger. They understand that paying for an affordable virtual system will allow for more normalcy in their day to day, will be most beneficial to their staff and patients, and eventually to their bottom line.
In addition, the pandemic we're experiencing now is likely to bring significant change to how virtual health and patient care is viewed in the future. Those clinics that jump on board and adopt virtual healthcare tools that offer privacy and flexibility for patients are the ones that will continue to have a competitive advantage in the long term.
About CoachCare:
CoachCare powers clinics with a virtual health and remote patient monitoring platform that reflects your unique workflow and protocol. Remote patient monitoring insurance features drive significant additional revenue while lowering the overall cost of care. Contact us to learn more.