< Back
Why Patients Value Virtual Health Data Access
Patients enjoy having patient portal health data access because it allows them to take ownership of their own care, makes them feel empowered as partners in their treatments, and helps them detect and identify errors their providers may have made in their medical records, according to a recent study. Without virtual health data access, patients cannot fully review their personal health information and cannot be fully engaged in their care.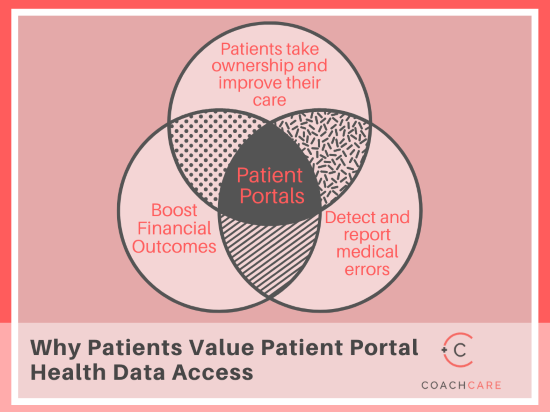 Not only are patient portals great for patients, but portals can yield actual value for providers by boosting clinical and financial outcomes. They have the potential to drive patient engagement, patient satisfaction, loyalty, retention, and health outcomes.
Improving Care through Virtual Health
A patient portal is bound to an EHR which provides patients and caregivers access to the most up-to-date patient information in real time. This includes recent health status changes, treatment plans, and current medication lists. This synchronization with EHRs allows patients using portals to improve accuracy and completeness of forms and additional required information. Portals allow patients to approve information needed for their care online such as demographics, allergies, insurance, and medical history with the changes seamlessly updated in their EHR.
Balancing Costs
Patients already expect to be able to manage their health and care online. This influences adoption of patient portals among patients reducing the amount of time and budget spent on calls for scheduling, re-scheduling, getting lab results, checking prescription refills, or getting details on treatment plan.
Patients like having quicker access to their test results and the ability to share their information with family members and other care partners. They also appreciate being able to detect and report medical errors. The tool helped patients identify problems in their own communication strategies with providers that could result in medical record errors.
How does access work with HIPAA compliance?
Although patient health data access is often touted as an integral part of patient engagement, patient rights can grow somewhat foggy regarding privacy and security. Because HIPAA has strict privacy rules, it can sometimes be unclear what rights patients have regarding health data access.
However, under HIPAA, patients have full access to their health data. Barring very limited exceptions, patients can access any and all PHI that their providers possess, and providers can never deny patients access to their health data for having unpaid medical bills.
Digital healthcare software providers such as CoachCare offer services such as HIPAA compliant video conferencing so patients can not only access their own health records, but they are also able to discuss these records privately with their healthcare providers through the portal.
Patients value patient portal virtual health data access because caregivers are able to improve health outcomes by getting better insights into patients' treatment progress and concerns. It's a win-win for everyone, and we are glad to see more practices adopting these methods.
About CoachCare:
CoachCare powers clinics with a virtual health and remote patient monitoring platform that reflects your unique workflow and protocol. Remote patient monitoring insurance features drive significant additional revenue while lowering the overall cost of care. Contact us to learn more.