< Back
Seven Ways Providers Can Increase Patient Satisfaction and Engagement
One of the most talked about topics in healthcare is how to increase patient satisfaction and patient engagement. Patients who are engaged with their healthcare decision-making and care tend to be healthier and have more positive relationships with their providers.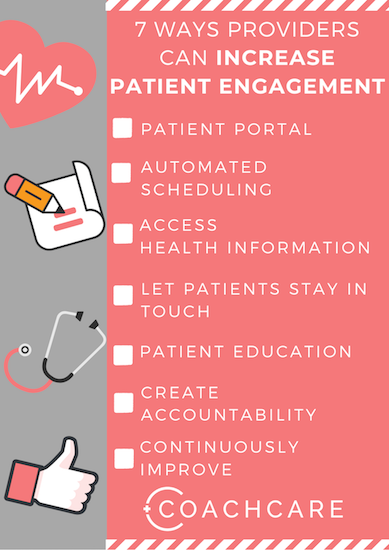 Patient engagement involves many different aspects of a patient's care but ultimately boils down to how involved a patient is with their medical provider, how accountable they are to their personal health, and how they are interacting with a practice on a day-to-day basis. While leveraging mobile health tools still tops the list of patient engagement strategies, we've also included other creative techniques that play on community engagement and personalized medicine.
1. Patient Portal to increase patient satisfaction
Probably one of the most widely recognized tools of patient engagement is the patient portal. The patient portal acts as a central hub that patients can access any time they are seeking to engage in their personal health or take more control of their payments. The patient portal offers many tools within itself that increase the level at which a patient can access their Personal Health Information (PHI) as well as schedule appointments and contact their physician. Patient portals raise the bar for patient-provider relationships by giving patients a simple and secure way to view their visit and payment history and make full or partial payments online. A messaging center can help patients address questions when they come up versus waiting for their next visit. Incorporating convenient online tools can improve patient engagement outcomes and help them manage their care and patient responsibilities.
2. Automated Scheduling and Appointment Reminders
These systems have been around since 2003, reminding patients of upcoming appointments two to four days prior to a physician visit. Patients were prompted to call back if they had to cancel an appointment. Now, vendors offer automated systems that prompt text messages or voice-activated responses that provide scheduling changes to practice staff. Many systems now connect the patient to a live operator after a cancellation to reschedule the appointment, which helps fill all available appointments, including same-day, which has been proven to contribute to patient satisfaction.
3. Make it easier for patients to access their own health information online
That's according to a survey of 200 patients with chronic medical conditions and 200 physicians and physician assistants conducted by CDW Healthcare. 76 percent of the provider respondents said they offer online portals to patients, 53 percent use secure e-mail, 25 percent use mobile applications and 21 percent use secure texting. Yet, 89 percent of the patient respondents said they would like easier access to their personal health records with only 29 percent giving providers an A grade for their use of technology to engage their patients.
4. Let patients stay in touch
Be sure to add a community page to your website or digital health app in order for your patients to exchange messages of support or advice. Building a community of those with the same goals and mindset with help your patients feel more engaged and part of the journey.
5. Patient Education
While creating clear access to their provider is one of the most crucial tools in increasing patient engagement, patient education ties in terms of value. Helping your patients understand every aspect of their health and care helps boost their confidence when addressing their personal health goals. Educating your staff on how to discuss payments upfront and keeping the lines of communication open will instill trust in the patient and help them understand everything you're doing. Providers should offer materials that help a patient not only understand their bill but each aspect of their care.
6. Create accountability
There's nothing like having a deadline and measurable accountability to encourage active participation in a plan of care. It is the basis of groups that offer weekly weigh-in checks and wellness fitness challenges. Helping patients track progress toward goals, either individually or as part of a group of like-minded individuals, can be extremely valuable in driving engagement. Keeping tangible reminders of those goals handy will also help–especially if the patient begins to waver.
7. Patient engagement should be planned, delivered, managed and continuously improved
That's according to a discussion paper from the National Academy of Medicine. The paper offers a blueprint for an effective patient engagement program. The framework features four processes: data collection, continuous feedback, increasing co-creation and monitoring. The core elements are: organizational foundations, strategic inputs, practice outputs and engagement outcomes. The four engagement outcomes are: better culture, better care, better health and lower costs.
Implementing any of these seven tools can be instrumental in increasing patient satisfaction and improving the level of patient engagement at your practice, and boosting your revenue.
About CoachCare:
CoachCare powers clinics with a virtual health and remote patient monitoring platform that reflects your unique workflow and protocol. Remote patient monitoring insurance features drive significant additional revenue while lowering the overall cost of care. Contact us to learn more.