< Back
5 Ways Telehealth Is Taking Modern Healthcare to the Next Level
Telehealth was first introduced in the 1980s and since then, has grown to encompass a wide range of devices and technologies that can transmit medical information in real time around the globe. These improvements in technology and healthcare has allowed medical professionals to provide services to communities previously underserved. Further, it's being used more often for both public and provide health providers alike, including treatment for weight loss and pain management to improve the patient care process.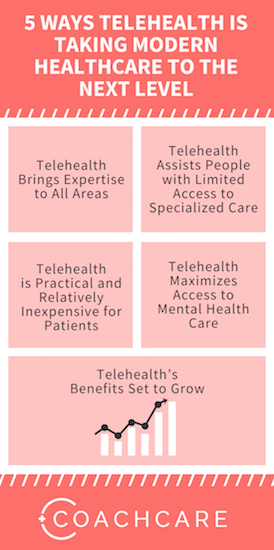 Telemedicine / Telehealth
Telemedicine refers to methods of advancing healthcare based on telecommunications technologies. There are several reasons telehealth is becoming more popular and successful. First, in rural areas where access to hospitals and other health related services are lacking, patients can use their computer to meet virtually with a doctor. Secondly, the cost benefits associated with telehealth are substantial. According to an Alliance for Connected Care study, Telehealth services can save up to $100 per doctor visit.
Stanford Children's Health started small when it began offering telehealth services a decade ago, primarily focusing on providing clinic-to-clinic virtual physician visitswith limited capability to consult directly with patients in their homes. But strong demand for such interactions from both patients and clinicians prompted the system to increase the size and scope of its telemedicine program about three years ago, helping the system to become more patient-centered.
Now let's take a look at the 5 ways Telehealth is taking modern healthcare to the next level:
1. Telehealth Brings Expertise to All Areas
The use of medical devices to monitor a patient's health from afar introduces a new level of convenience for both patient and provider. It can serve to supplement in-person visits to a medical practitioner, and complements regular doctor visits, creating a more comprehensive treatment plan. In addition, it can provide additional care that would otherwise be unavailable.
2. Telehealth Assists People with Limited Access to Specialized Care
The biggest benefit of telehealth is the ability to provide immediate access to care that otherwise would be difficult to obtain. Rural communities, for example, lack the healthcare infrastructure of more densely populated areas. Often, rural patients need to drive hours to see a practitioner, which isn't always practical or possible. Telehealth creates an alternative way for patients and practitioners to remain in contact between appointments or for patients to have visits with specialists that they would ordinarily not be able to have.
3. Telehealth is Practical and Relatively Inexpensive for Patients
There is a declining misconception that, because it represents advanced technology, telehealth is also prohibitively expensive. In the past, providers were rarely reimbursed for telehealth services, so those services struggled to gain traction. While this has historically been a barrier in telehealth, it's rapidly changing for the better. More health insurance companies, along with Medicaid and Medicare, are reimbursing the use of telehealth. As a result, patients are viewing it as a more viable, trustworthy system.
4. Telehealth Maximizes Access to Mental Health Care
One area benefiting most from the use of telehealth is mental health care. By taking advantage of Telehealth via video communication, patients are able to get a quick 10-minute consultation, alleviate an immediate issue that maybe would have spiraled into something more significant, receive a prescription and attend regular therapy sessions.
5. Telehealth's Benefits Set to Grow
Everyone who uses the healthcare industry will have a treatment plan that includes telehealth in some fashion, whether through remote visits with a primary care provider, or more extensive care, such as seeing a therapist on a regular basis. As insurance companies trend toward reimbursing more telehealth treatment options, telehealth will only continue to grow more widespread and beneficial, helping increase the overall health and well-being of urban and rural communities alike.
If you are interested in improving your patient care process, there are many options to do so with Digital Health Technology such as CoachCare. With scheduling, automated alerting, reporting, integrated connected devices, progress tracking, video conferencing, and much more, Telehealth will take the care your clinic provides to the next level.
About CoachCare:
CoachCare powers clinics with a virtual health and remote patient monitoring platform that reflects your unique workflow and protocol. Remote patient monitoring insurance features drive significant additional revenue while lowering the overall cost of care. Contact us to learn more.