< Back
How to Help Your Patients Stay on Track With TeleHealth While on Vacation
The summer season, especially holidays such as Memorial Day, Fourth of July and Labor Day, can be a tough time for your patients to stay on track with their weight loss goals. Just because they are taking a trip, doesn't mean their diet needs to go on vacation, too. They have worked hard all year to earn a chance to relax and have fun, but it shouldn't be a time to sabotage their weight loss success! Use this guide to prepare your patients ahead of time and provide support using telehealth features even when they are hundreds of miles away.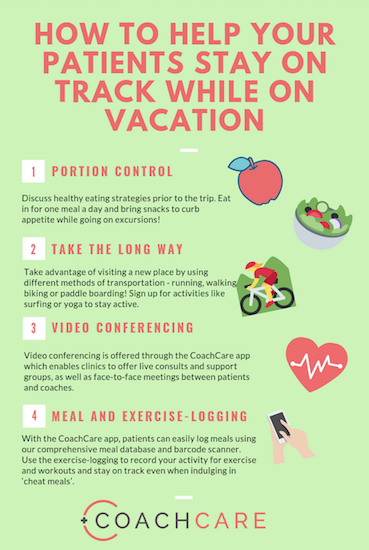 Portion Control
Prior to your patients leaving for vacation, discuss healthy eating strategies. It can be tempting to want to eat out every single meal, but you should encourage them to watch their portions. Restaurants serve large portions, and we tend to eat more when more food is in front of us. Restaurant menu items are also often high in calories and fat, and it's hard to keep track of the nutrition facts when you are not preparing your own meals. Suggest that they investigate the eating options before they go and plan to eat at the healthier restaurants in the area.
Advise your patients "eat in" for one meal a day. This can save both calories and money during their trip! Pack some low-sugar instant oatmeal, whole-grain breakfast cereal, power bars or breakfast bars to start their day on the right track with lots of energy.
If your patient has plans to go on an all-day excursion, advise them to bring snacks, or they will likely be ravenous by their next meal. Be sure the snack picks have protein to keep hunger pangs at baywhile they wait for their next meal.
Take the Long Way
Just because your patients are taking a break from work, does not mean they need to take a break from working out. They should take advantage of exploring a new place by using different methods of transportation such as running, walking, biking, or even paddle boarding! Whether it's walking to dinner, jogging to a museum, or taking a paddle boarding break from reading on the beach, there are so many ways your patients can be active while on vacation.
Along with researching healthy restaurant options ahead of the trip, you should also encourage your patients to look at fun activities to try. Many vacation spots offer fitness classes such as hiking, yoga, surfing, or even cooking classes with local fare which can be a fun and healthy way to try a new meal!
Telehealth Features: Video Conferencing
Digital health technology is a critical resource that patients can use to stay on track while on-the-go. Video conferencing is offered through the CoachCare app as one of their telehealth features which enables clinics to offer live consults and support groups, as well as face-to-face meetings between patients and coaches. With automated alerting, coaches can receive real-time, actionable alerts when patients need intervention based on CoachCare data analytics. You'll never have to worry about your patients not receiving the support or help they need when away from the office if you are using the patient portal app.
Telehealth Features: Meal-Logging and Exercise-Logging
As mentioned before, it can be very hard to keep track of your food intake when you are not the one preparing your own meals. Luckily with the CoachCare patient portal app, your patients can easily log meals using our comprehensive meal database and barcode scanner. It is normal to indulge on vacation and go over your normal calorie limit, which is how the exercise-logging feature comes in handy. This is an easy and simple way for patients to record their activity for exercise and workouts and stay on track even when indulging in 'cheat meals'.
With proper planning and a digital health technology like CoachCare offering many telehealth features, you can be sure your patients receive the best possible care to stay on track while on vacation. Your patients have worked so hard to feel – and look – their best in the summer months, so it is up to your clinic and coaches to stick with them every step of the way!
About CoachCare:
CoachCare powers clinics with a virtual health and remote patient monitoring platform that reflects your unique workflow and protocol. Remote patient monitoring insurance features drive significant additional revenue while lowering the overall cost of care. Contact us to learn more.