< Back
How to Increase Patients in Your Clinic
For most, weight loss is a logical process: restrict food intake and increase exercise. However, human nature often resists this logic, which is why the weight loss business is a multibillion-dollar industry. Your weight loss clinic competes with other clinics in your area, online weight loss product promoters, local doctors and gyms. Your target market chooses between these sources according to what these customers want – not necessarily what they need.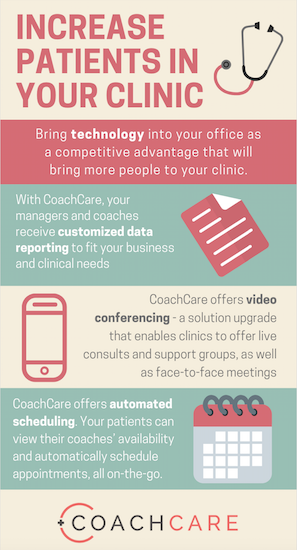 What The Customer Wants
Growing your weight loss center business involves increasing patient satisfaction and giving your clients what they want – an easy, enjoyable way to lose weight. Some want to simply buy your food and supplements. Others need moral support and community, or like the competition of weekly weigh-ins. Consider how you can provide for these customer desires in addition to giving them what you believe they need. Increase revenues from your current customers by adding new productssuch as digital health technology, nutritionists, skin care lines and other spa products that your customers would find appealing and train your staff to cross-sell these items when dealing with clients.
Many patients already use their own fitness devices, so it is important to find digital health technology that integrates with these devices. CoachCare's own wireless scale and activity tracker generate new revenue streams and put valuable real-time data at your staff's fingertips 24/7. CoachCare also integrates with many third-party devices including Apple Health Kit, Google Fit, FitBit, and Levl.
Utilizing Technology to Uncover Opportunity
Bring technology into your office as a competitive advantage that will bring more people to your clinic. Implementing technology can be an invaluable tool in understanding and managing flow throughout the clinic, but a thorough review of existing processes is necessary for a smooth launch and ongoing success. To begin the process, some facilities have found benefit in establishing a multidisciplinary team, ensuring collaboration so that overall coordination is improved, not just processes within one specific area.
Reporting on your patients' success and increasing patient satisfaction is a huge factor to the success of a clinic. It is important to use technology to manage reporting correctly. With CoachCare, your managers and coaches receive customized data reporting to fit your business and clinical needs. This includes automated reporting of Diabetes Prevention Program data for the CDC, Medicare and other organizations!
Build An Online Presence
If you don't already have a practice website or any kind of online presence, you're falling behind. With 72% of patients now consulting the internet for healthcare information and 62% using online reviews to find new doctors, your online presence is crucial. Chances are, if you're not online, many new patients aren't finding you. Besides building a beautiful practice website, there are a few other things you should do. Submit your practice to online directories, create your profile on the major review sites, and get a social media profile up for your practice. All these steps will help you come up in search results – plus your current patients will be delighted that you're online.
Offer After-Hours Virtual Visits
It seems obvious that doing after-hours patient visits can increase revenue. It just makes sense – you can fit more appointments into a day, compete with nearby practices that are only open 9-5pm, and keep patients in your practice with convenient scheduling options. Of course, if you're like most doctors, you're probably looking for a little more work-life balance and don't want to work after-hours. But what if you could offer after-hours visits from your home? What I you could replace those after-hours urgent patient calls you already get with reimbursable video visits? With this change you could increase your patients, recapture lost revenue from uncompensated time, and maintain work-life balance.
The CoachCare platform offers video conferencing. A solution upgrade that enables clinics to offer live consults and support groups, as well as face-to-face meetings between coaches, admins and patients.
**Build a Better Appointment Schedule**
Optimizing an appointment schedule is one of those projects that seems a fine balance of art and science. How do you keep your patient flow up without getting bottlenecks and long wait times? How do you keep appointment wait times down and allow same-day walk-ins?
Besides trying out a few of these tips, making a change to providing virtual visits can help you address these issues. Virtual patient visits can be more flexible, since patients can simply login online from wherever they are. If you have a last-minute no-show or happen to have a 10-minute time slot open in your day, you can get online and start a virtual visit – and lose no time. Plus, unlike a usual walk-in, the patient doesn't have to wait around in the office until you're free. Minor, urgent care needs will no longer send your patients to the nearest retail clinic for treatment.
A great feature of the CoachCare platform is automated scheduling. Your patients can view their coaches' availability and automatically schedule appointments, all on-the-go which is a necessary feature to increase patient satisfaction.
A Culture of Continuous Improvement
Using key performance indicators and baseline metrics, data can be continually collected and compared to track improvements in performance to inform important decisions like right-sized staffing models and optimal exam room-to-provider ratios. Maintaining transparency with the team is an important step– sharing outcomes and results with staff builds ownership and accountability. This can be accomplished via huddles, emails, or view boards, which will help foster collaboration and motivation for continued performance improvement. Best practices learned through the implementation of location-based technology can then be leveraged in other departments or locations throughout the healthcare organization.
About CoachCare:
CoachCare powers clinics with a virtual health and remote patient monitoring platform that reflects your unique workflow and protocol. Remote patient monitoring insurance features drive significant additional revenue while lowering the overall cost of care. Contact us to learn more.