< Back
Advantages of an In-Office Dispensing System for Your Clinic
Have you ever wondered if there was a way for your clinic to easily stock, dispense, track and reorder medications and supplements that support your clients' health goals? Thanks to advances in digital health technology, in-office dispensing systems and clinic software can make it that much easier for you and your staff to ensure you never run out of what you need to keep your clients happy, healthy, and on track.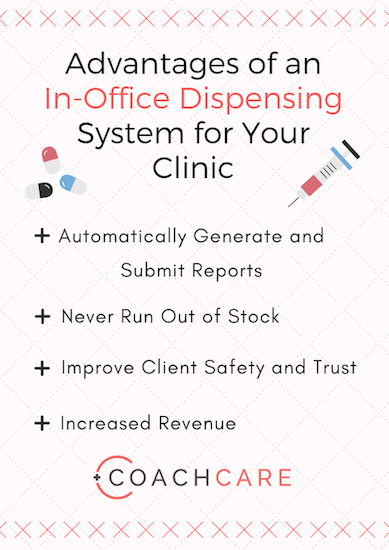 An in-office dispensing system means it is no longer necessary to carry out onerous manual record keeping and ordering. Systems like CalvinScott, which caters specifically to weight loss physicians, automatically generate and submit reports to local and federal regulators as required by law. So, if compliance is proving a headache or a barrier to in-house dispensing, it would be wise to think about an in-office digital dispensing system.
How Does an In-Office Dispensing System Work?
To make things simple, every bottle provided to your clinic has a barcode on the label. All you need to do is scan the prepackaged medication or supplement and the correct medication will be entered into the system. Custom labels help keep your clinic's brand front and center, and patient-specific labels are a breeze with this kind of system, as approved by the FDA and DEA. What's more, unique prescription numbers are automatically generated for each order, so you can keep track of everything with ease.
A detailed sign-off sheet is also automatically generated for your staff to sign and file with paper records if required. And, when you need to do so, the web-based application lets you access detailed reports instantly to get an overview, or for a deep dive into your clinic's use of medications and supplements. This is a great way to gain insights into what's working and what's not, and to spark debate with your fellow clinicians over the most effective strategies to support client health.
Physicians can also order a variety of different types of medications based on their specialty. For instance, CalvinScott, the obesity-focused dispensary mentioned above, allows physicians to order custom-labelled controlled medications, prescription medications, and a wide variety of supplements that are shown to have increased benefits for weight management, such as Garcinia Cambogia and green coffee bean extract. These are prepackaged in any desired amount to meet the needs of the clientele and are packaged with the clinic's label to maintain brand consistency.
Additionally, the company's packaging facility is licensed by the FDA and DEA and is a Verified-Accredited Wholesale Distributor (VAWD), meaning you don't need to worry about sourcing multiple products from dozens of different companies whose licenses you have to verify over and over. VAWD accreditation helps ensure that clinics and patients are not exposed to counterfeit drugs that can harm their health and livelihoods.
Never Run Out of Stock Again
One major advantage of an in-office dispensing system is that you can set things up so that you never run out of a medication or supplement again. Clinic software that offers automatic reordering means you won't spend precious minutes recommending a supplement to a client only to find you're out of stock. Not only is this reassuring for you, it helps you and your staff build a better rapport and stronger supportive relationship with those you're trying to help achieve their health goals. Where a client is struggling with health issues that could be improved by weight loss, this kind of system is invaluable as it helps you to ensure your clients follow the full treatment plan and enjoy significant results. 
Custom packaging and prescriptions provided in-office may also help improve adherence to antibiotics and other medications where generic packaging frequently includes too many pills, causing confusion, overuse, and problems with medication disposal and antibiotic resistance.
Another clear advantage of in-office dispensing for clinics is, quite simply, revenue. By providing this extra service for your clients, you will greatly increase profits while actively improving patient care. This kind of system also frees up resources, so clinicians have more time to put into research. And, it enables easier access to real-time data on medication and supplement use by clients participating in research trials.
Improved Client Safety and Trust
A point-of-care dispensing system also helps decrease the risk of overprescribing, prescription errors, and unfilled prescriptions. While some cite safety concerns over in-office dispensing systems due to a lack of 'second-check' at a pharmacy, digital health solutions have solved this problem by incorporating safety alerts, dosage checks, look alike sound alike (LASA) screening, and other important measures that ensure the right medications and supplements are being dispensed.
With an in-office system, clients can be sure that they are getting the right medications and supplements from a team they trust, with easy access to real-time, in-office adjustments to medications and dosage. By improving access to medications, you're helping your clients stick to their treatment plan, so they are more likely to see real health benefits. 
When prescriptions go unfulfilled, this can cause serious health consequences and erode the client-clinician relationship. It is so much easier for you to be able to hand your clients their medications at the front desk so they can start using them right away instead of needing them to make time to trek to a pharmacy. And, happily, by providing prescriptions and dispensing all in one place, you enable your clients to enjoy greater privacy and create a more trusting and collaborative atmosphere. You just don't get that at a big pharmacy!
For these reasons and more, as your clinic becomes more open to digital health technologies like patient apps and provider dashboards, incorporating an in-office dispensing system may also be high on the list to see some major clinical benefits. 
About CoachCare:
CoachCare powers clinics with a virtual health and remote patient monitoring platform that reflects your unique workflow and protocol. Remote patient monitoring insurance features drive significant additional revenue while lowering the overall cost of care. Contact us to learn more.