< Back
How Digital Healthcare Helps Doctors and Patients
It's real. What was once just a figment of our imaginations is now happening throughout the healthcare industry—digital health care promoting healthcare insights. Driven by technology and pushed by the digital age, more and more health providers are resorting to the use of electronic tools and communications to enhance their jobs.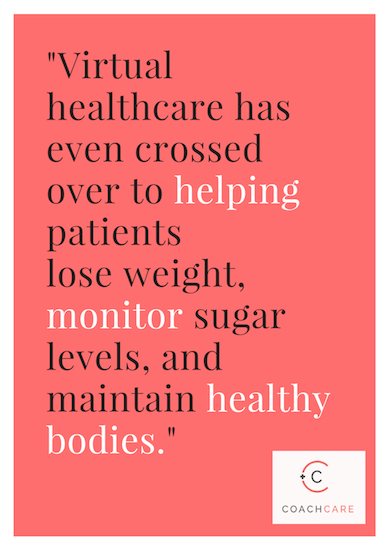 Thanks to digital healthcare, medical professionals can connect with their patients through dashboards, phone apps, messaging systems and webcams. They can communicate faster and more frequently, helping both doctors and patients to make faster decisions. There are now also various gadgets and devices patients can wear to relay their vitals to the doctors via the Internet. Virtual healthcare has even crossed over to helping patients lose weight, monitor sugar levels, and maintain healthy bodies.
So maybe it's time to rethink how we do things both as doctors and patients. The future is now. Here is how digital healthcare can help doctors and patients alike:
1. It keeps patients motivated.
With virtual health, patients are more motivated and confident to lose weight and change their lifestyle. One reason is because it's a lot more fun, and you get to track your progress throughout your program with healthcare insights. Some systems also have built in reminders to remind the patients of the goals they are supposed to aim for.
Real-time progress charts are accessible, and when patients see their progress, they become even more eager to pursue their programs.
2. It keeps coaches and patients more engaged.
Coaches can communicate faster and at anytime they are available throughout the day. Because of this, there is a more personal approach and better relationship between the patient and the coach. Most virtual healthcare systems allow users to send messages anytime, which encourages two-way communication.
The coaching itself is also more personal, because the coaches can adjust accordingly depending on the data provided by the systems. Interaction traditionally only happens when patients come in for consultations. Using digital health care systems, interaction and consultations can level up.
3. Data is accessible right away.
As technology continues to evolve, data is shared back and forth more often. Digital health care systems monitor specific data sets and use this data to make the system even more helpful for the user.
The CoachCare solution, for example, offers a mobile app that can be used by patients and a dashboard that is used by the clinic and coaches. Wearable trackers and wireless scales can record the patients' sleep patterns, daily steps, calories burned, weight fluctuations and so much more- any real-time data that is customized to each patient's program. Because this information is easily transmitted back and forth from the patient to the coach, the coach is able to make a thorough assessment and can prepare a perfectly matched program for the patient. These proactive insights are invaluable to the coach and to the success of the patient.
4. It's more convenient and time saving.
One thing about going digital, is that it saves an amazing amount of time. Imagine not having to travel anymore just to go to the clinic. Minor health concerns can be addressed faster, without patients leaving the comforts of their home. In a lot of instances, patients are provided access to a doctor without having to wait.
For weight management, for instance, this means just a few clicks here and there, and you can virtually set up a meeting or chat with your coach and also check out your healthcare insights.
If there are times when you really do need to come in to the clinic, scheduling appointments is also easy because patients can view the doctors' work schedule via the system.
5.  It reduces costs.
Patients can save on travel costs by having to see the coach or doctor only rarely in person. Virtual visits, according to Journal Sentinel, can lessen unnecessary visits, thus lowering costs for patients. Virtual healthcare also reduces costs for clinics regarding office or clerical jobs, since the systems can take care of some of these jobs for them.
Thanks to technology, healthcare has become more accessible and enjoyable to people all over the world. It has also opened doors for collaboration among professionals from different countries. It's definitely high time to consider digital healthcare as you aim to be a more advanced clinic or a healthier version of yourself.
About CoachCare:
CoachCare powers clinics with a virtual health and remote patient monitoring platform that reflects your unique workflow and protocol. Remote patient monitoring insurance features drive significant additional revenue while lowering the overall cost of care. Contact us to learn more.