< Back
Tips to Stay Fit During the Cold Winter Months
The winter season is upon us, and it can bring challenges to your fitness routine. It becomes difficult to find motivation for working out this time of year. The weather is colder, the daylight hours are shorter and other priorities make it hard to establish a routine. People tend to avoid going outdoors and often skip the gym. On top of that, the holidays are around the corner and there seems to be cookies and candy everywhere you look. While exercise in winter may be tough, it is very important for our health to stay active!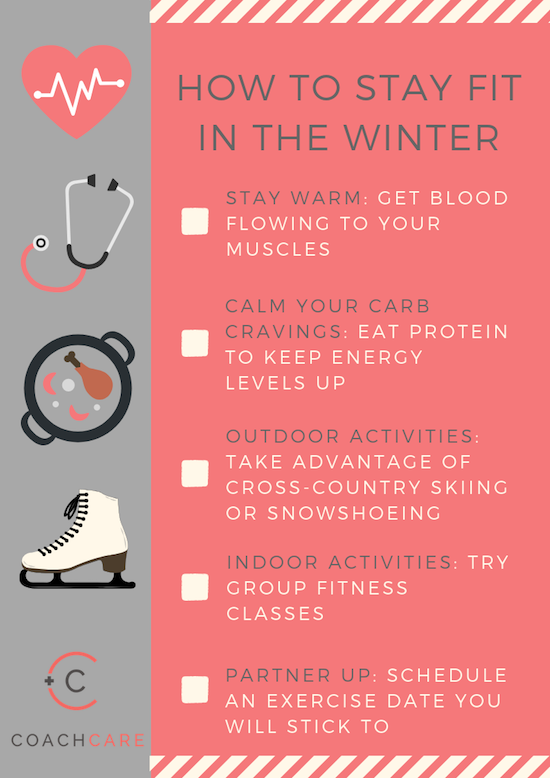 Maintaining proper diet and exercise routines is also necessary to ward off illness. It is estimated that 20% of the United States population gets the cold or flu each year. Winter time presents a higher likelihood to develop the cold and flu than during any other season.
Keep Moving and Stay Healthy This Winter
Use the tips below to help stay motivated, active and healthy during the cold, winter months.
Stay warm: Be sure to warm up indoors before an outdoor workout to get blood flowing to your muscles. Cold and stiff muscles are more prone to injury. Consider jumping jacks, a jog on the treadmill or cycling.
Calm your carb cravings: The cold season tends to ignite our cravings for more carbs and comfort foods. After you consume delicious treats, your serotonin levels rise, making your brain think you are happier. As the day goes on, your carb cravings just keep getting stronger. To counter this, try eating a protein-packed breakfast to keep your energy levels up throughout the day. If by the time the afternoon rolls around and you're still craving sweets or carbs, be sure to have low-fat and healthy snacks on hand.
Try these outdoor activities: Brisk walking or jogging to stay warm. Raking leaves and shoveling snow is a great arm work-out. Ice skating is fun and great for working your leg muscles. Sledding can motivate you to walk uphill numerous times with a fun outcome. Cross-country skiing and snowshoeing are great winter activities to take advantage of!
Try these indoor activities: If you can't bring yourself to stay outside for more than a few minutes in the winter, there are plenty of ways to get a great workout indoors. Try out some group fitness classes. Yoga in particular can be very beneficial in the winter. It helps stretch and strengthen muscles, which can relieve chronic pain and gives you time to mediate and reflect, which can reduce insomnia. It can also lower blood pressure and give you more energy throughout your day, which is particularly helpful in the bleak winter months.
Partner up: Enlist your friends and family as exercise partners. Set a date to meet a friend at the gym and you are much more likely to follow through. Instead of meeting a friend or a meal or coffee, consider an exercise date. You could meet at the mall to walk briskly and window shop. Try stepping out of your comfort zone with a friend and take a dance class. Exercise can be social and fun!
Winter is the Time to Pay Close Attention to Your Health
It is very important to take your health seriously during these cold winter months. Winter can increase the incidence of depression and other disorders in many people. Pay close attention to your state of mind in the darker and colder months. If you start getting into a funk, don't brush it off as a simple case of the winter blues. Seasonal affective disorders are serious business, and you should be extra mindful of your mood.
While each person handles winter differently, following a few of the guidelines above and probing into the way you relate to and react to the darker days of winter will help you form a plan of attack and make this the best winter you've weathered yet. Just because the temperatures are dropping does not mean you need to hibernate! Experts recommend that you exercise for at least thirty minutes, five days a week. However, even five or ten minutes of movement a day can help with weight loss, improving your mood, and increasing your heart health. So, grab a partner and get moving!
About CoachCare:
The CoachCare technology platform powers health clinics across a number of specialties, including weight loss, pain management and chiropractic care. A custom-branded mobile app, coach dashboard and connected devices combine in one integrated platform to improve patient care and increase clinic revenues. Contact us to learn more.
Download our free white paper to learn about the impact of virtual healthcare technology on your clinic.